St. Augustine Slip & Fall Lawyers
Slips, Trips & Falls in Florida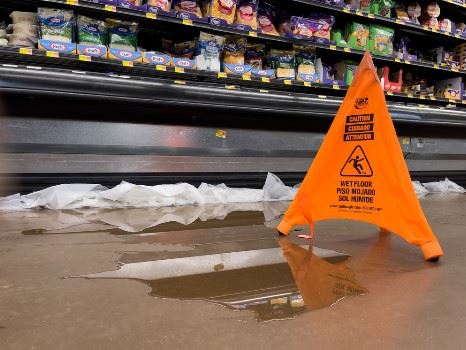 When you visit someone else's home, a retail store, or any other private or public place, you expect the property to be well-maintained and in a reasonably safe condition. In fact, under Florida premises liability laws, property owners are required to ensure their premises are free of any hazards that could cause foreseeable injury or harm. This means conducting adequate property maintenance, repairing or removing hazards, and warning guests of any dangerous conditions. When property owners negligently fail to do this, they can be held legally liable for accidents and injuries.
If you slipped, tripped, and/or fell on someone else's property, and you believe the property owner was to blame, reach out to Canan Law right away. You may have grounds for a slip and fall case and could be entitled to financial compensation for your medical bills, lost income, physical pain, emotional suffering, and more. Our highly experienced slip and fall accident attorneys are here to help you understand your legal options and help you fight to maximize your claim.
Contact us online or call our office today at (904) 849-2266 to get started with a free, no-obligation consultation with our St. Augustine premises liability lawyers.
Who Is Liable for a Slip & Fall?
Slip, trip, and fall claims are some of the most common types of personal injury cases—as well as some of the most contested. Because many people think of slip and fall accidents as being the result of human error or general clumsiness, it can be challenging to prove that someone else was liable for the incident.
However, in many cases, slips, trips, and falls are not the result of clumsiness but, rather, unsafe property conditions that the property owner knew about or should have known about. When this is the case, you may be able to prove that the property owner, manager, or another party is liable for your resulting injuries and damages.
Depending on the specifics of your case, any of the following parties (and others) could potentially be liable for your slip and fall accident:
A homeowner or condominium owner
A large commercial entity/corporation
A landlord or rental company
The city or a local government
The owner or manager of a retail store, restaurant, etc.
A homeowners' association
At Canan Law, our St. Augustine premises liability attorneys have an in-depth understanding of the law and know how to properly investigate slip, trip, and fall accidents to determine who is liable for your injuries.
Our St. Augustine slip and fall attorneys have earned a reputation within our community as powerful advocates for the injured. We know how to effectively negotiate with insurance companies for local businesses, large corporations, and even municipal entities to help our clients fight for the fair recoveries they deserve.
What Not To Say After a Slip & Fall Accident
As a practical matter, you should be extremely careful about what you say to medical providers or EMTs who arrive on scene. Any statements that you make to these individuals can be used against you by the insurance company if you pursue a personal injury claim and seek compensation. For example, if you tell the EMTs, "I'm not sure what I fell on; it's possible I just tripped over my own two feet!" you can bet that the insurance company will take those statements into consideration, and it is likely that your claim will be denied.
What Is Considered a "Dangerous Property Condition?"
The issue of "dangerous conditions" is an important one in any premises liability claim—but what exactly constitutes a dangerous property condition? Essentially, any condition or hazard that poses a foreseeable risk of injury can be considered "dangerous." This means that the condition has to be one that a reasonable person would know could potentially cause injury or harm.
Examples of dangerous property conditions that may lead to a slip, trip, and/or fall accident include:
Wet or slippery floors
Spills and fallen merchandise
Cluttered walkways, aisles, etc.
Overgrown landscaping
Defective sidewalks, potholes, etc.
Improper or insufficient lighting
Improper signage (lack of "wet floor," "watch your step," etc. signs)
These and other dangerous conditions can all contribute to or cause a slip and fall accident, leaving innocent individuals seriously injured. If you were hurt on someone else's property, we encourage you to reach out to our slip and fall injury attorneys to learn more about protecting your rights and your recovery.
What Injuries Are Common In Slip and Fall Accidents?
Some of the most common slip and fall injuries are broken bones. The older the victim is, the more likely they are to suffer a break as a result of a fall. The below types of broken bones are the most common:
Broken wrists
Broken hips
Broken ankles
However, more serious falls may result in more serious injuries such as concussions, brain injuries, spinal injuries, shoulder or neck injuries, etc.
Call Canan Law
Our firm has been a fixture in the community for nearly 20 years. We are proud to represent the people of Northeast Florida, providing the personal attention they deserve and the aggressive advocacy they need. We are prepared to guide you through the process, from gathering evidence and building your claim to negotiating with the insurance company for the liable party. If necessary, we are even ready to take your case to trial. With over 250 jury trials under our collective belt, we have the experience needed to fight for you.
We are available 24/7 and offer contingency fees for all personal injury clients. This means you do not pay any upfront fees or out-of-pocket expenses. Instead, we only collect fees if/when we win your case.
To learn more, call us at (904) 849-2266 and request a free initial consultation with our slip and fall lawyers in St. Augustine.
The Firm You Can Trust In Any of Life's Difficult Situations
Our legal team specializes in a wide variety of practices and we are ready to fight & advocate on your behalf.
How to Win a Slip & Fall Case
In Florida, there are several elements you must prove to be successful in your slip and fall injury case. Generally speaking, the issue of negligence is often decided based on common sense, but there are many defenses available to property owners accused of negligent conduct.
To win a slip and fall case, our attorneys work to establish the following elements:
The property owner owed you a duty of care, meaning you were lawfully on the property as an invitee or licensee
The property owner failed to adequately/reasonably address (repair, remove, warn of, etc.) a dangerous condition or created a dangerous condition
The property owner knew or should have known that the dangerous condition posed a foreseeable risk of injury
You were injured because of the dangerous condition and suffered measurable damages (e.g., medical bills, lost wages, pain and suffering, etc.)
Often, property owners allege that they did, in fact, take steps to remove or repair a dangerous condition or that the injured person (the "plaintiff") was negligent or otherwise contributed to their injuries. The property owner may argue that they could not have known about the dangerous condition or, conversely, that it was so open and obvious that the plaintiff could have easily avoided it.
Our slip and fall attorneys in St. Augustine work to counteract these and other common defenses. We look at various factors—such as whether the property owner's attempts to repair or remove the dangerous condition were adequate and reasonable, how long the condition existed before the accident, the nature of the dangerous condition itself, and more—and use this information to build strong cases on behalf of our clients.