St. Augustine Motorcycle Accident Lawyers
Motorcycle Accidents in Florida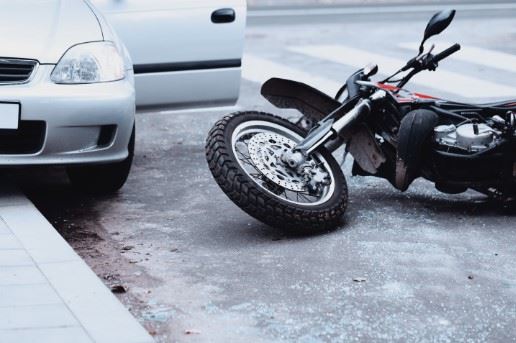 Motorcycle collisions can be extremely dangerous and, often, deadly. In most road and highway accidents, such as those on I-95, the motorcyclist is thrown from the motorcycle into the street or onto other vehicles. This can result in head trauma, traumatic brain injuries, serious lacerations, and many other severe injuries.
While motorcyclists are not covered by personal injury protection (PIP) insurance, they are also not bound by its restrictions. Injured bikers may be able to seek damages from the at-fault driver or party who caused the collision.
If you were injured in a motorcycle accident, or if your loved one died in a fatal collision, turn to the team at Canan Law. With more than 60 years of combined experience, our St. Augustine motorcycle accident attorneys understand the devastating impact motor vehicle accidents have on victims and their families. We are ready to stand up for you and fight for the maximum compensation you are owed.
We offer free initial consultations and are available to assist you 24/7. Call (904) 849-2266 or submit an online request form to get started.
How Do Motorcycle Accident Claims Work in Florida?
As previously mentioned, motorcyclists are not covered under Florida's no-fault system, which mandates personal injury protection (PIP) insurance for drivers of other types of motor vehicles. While this has certain drawbacks, it also offers several benefits. Namely, injured motorcyclists are not limited by the no-fault system and can seek compensation for all their damages by filing claims directly against the at-fault driver (or another liable party).
To have grounds for a personal injury lawsuit after a motorcycle accident, you will need to prove the following elements:
Another motorist (or party) breached the duty of care by acting recklessly, carelessly, negligently, or wrongfully
You were injured because the other driver or party breached the duty of care, meaning their negligent or wrongful conduct was the cause of your injuries
You sustained measurable damages, such as medical bills, lost income, lost quality of life, pain and suffering, etc.
Under Florida's rule of pure comparative negligence, you do not need to prove that the other motorist was entirely at fault for the accident, only that they shared some percentage of the blame. If, however, you are found to have contributed to the accident, your total recovery will be reduced.
Proving Fault in Your Motorcycle Accident
Proving fault for your motorcycle accident is a critical element of a successful outcome. At Canan Law, we work to establish liability by examining how the accident occurred, who was to blame, and whether any outlying factors played a role in your injuries and damages.
We can investigate your motorcycle accident to determine if it was caused by:
Traffic law violations, such as running a red light or speeding
Someone who was following too closely ("tailgating")
A fatigued driver, including fatigued truck drivers
Unsafe or unlawful turns, passing, or merging
General motorist negligence
A defective roadway or poor road construction
Reckless or aggressive driving/road rage
We work with expert accident reconstructionists and investigators to obtain a clear picture of what happened, as well as medical professionals and economists who help us evaluate the full extent and severity of your injuries and damages. We then utilize this evidence to present your case to the insurance company or, when necessary, the judge and jury.
At Canan Law, we have earned a reputation for success within the community. Our attorneys are highly respected by judges and insurance companies' defense teams know that we will not back down from a fight. We fight about the issues that truly matter and are committed to doing everything we can to help injured motorcyclists and the loved ones of those wrongfully killed obtain the justice they deserve.
Causes of Motorcycle Accidents
There are many different causes of a motorcycle accident that a motorcycle injury attorney can assist you with:
Speeding. A speeding driver poses a great danger to motorcycle riders as the driver has less room for error.
Lane Changes. Motorcycles are far smaller than other vehicles and a car driver may not see you when changing lanes.
Intersections. Drivers are supposed to signal when turning. However, most drivers can tell you that very few actually do so. An accident at an intersection can be particularly devastating to a motorcycle rider.
Helping Injured Motorcyclists in Our Community Get Their Lives Back on Track
At Canan Law, we have helped many individuals in St. Johns County and Northeast Florida—including motorcyclists, pedestrians, and bicyclists—recover compensation for injuries caused by the negligence of another driver, an unsafe roadway, or motorcycle defect. We understand the intricacies of the law, the rules and procedures involved, and have extensive experience working with many different insurance companies.
Our attorneys can fight to get you the money you need to pay for property damage, medical expenses (including rehabilitation and long-term health care needs), lost wages, and even pain and suffering. Let us help you get your life back on track.
Call our lawyers today at (904) 849-2266 or send us an inquiry online to schedule a free initial consultation.
Motorcycle Lawsuit FAQs:
What if I wasn't wearing a helmet at the time of my accident?
Failing to wear a helmet while riding your motorcycle may lead to more serious injuries if you're involved in an accident, but that doesn't necessarily mean that you won't be able to recover compensation. In some cases it may reduce your settlement amount if the jury believes a helmet could have prevented you from suffering such serious injuries, but you should still be able to recover some compensation.
The Firm You Can Trust In Any of Life's Difficult Situations
Our legal team specializes in a wide variety of practices and we are ready to fight & advocate on your behalf.
What to Do After a Motorcycle Accident
Because motorcycle accidents are often extremely serious, the first thing you should do if you were involved in a collision is assess yourself and others for injuries and, if necessary, call 911. If anyone was injured, you should also contact local police and have them come out to the scene of the accident to file an official accident report.
If possible, after a motorcycle accident, try to do the following:
Remain at the Scene: Often referred to as "hit-and-runs," fleeing the scene of an accident is a crime in Florida. By law, you must stay at the scene to exchange information with the other driver and render reasonable aid to anyone who is injured.
Check for Injuries: In many cases, motorcyclists involved in crashes with other vehicles sustain severe injuries, requiring emergency medical aid. However, if you do not need emergency attention, you should still check yourself for injuries and determine whether to call 911.
Call the Police: Florida law requires you to report any accident that results in injury, death, or damage that renders a vehicle inoperable within 10 days. You are also required to report hit-and-run accidents, as well as collisions with commercial vehicles.
Exchange Information: Exchange insurance information and contact information, including names and addresses, with the other driver or anyone else involved in the accident. Try to remain calm and avoid assigning (or admitting) fault.
Document the Scene: If possible, take pictures of the scene of the accident, including the position of your motorcycle and any damage it sustained. You should also document your injuries and everything you can remember about the accident.
Talk to Witnesses: If anyone saw what happened, be sure to write down their name(s) and contact information, including a phone number. This can be incredibly useful to the success of your future motorcycle accident claim.
See a Doctor: If you did not receive medical attention at the scene or immediately after the crash, see a professional medical provider as soon as possible. You could have underlying injuries, which should be addressed right away.
Notify Your Insurance Company: You should report the accident to your insurance company. The language of your specific policy will most likely dictate how long you have to report the crash; make sure you know and understand your motorcycle insurance policy.
Contact an Attorney: As soon as possible, contact a motorcycle accident attorney in St. Augustine for help with your claim. Do NOT talk to anyone from the other driver's insurance company or discuss the accident with others until you have spoken to a lawyer.
At Canan Law, we can help you at every stage of the process. Whether you need help obtaining adequate medical care or have been contacted by adjusters from the other person's insurance company, our motorcycle accident lawyers in St. Augustine are ready to immediately begin protecting your rights and looking out for your best interests.