St. Augustine Violent Crime Defense Lawyer
Violent Crimes in Florida
A violent crime involves an action that harms another person. In Florida, certain offenses are sometimes considered violent crimes even if the other person is not hurt.
If you are arrested for or charged with a violent offense in Florida, you face serious criminal penalties. In addition to losing your freedom and being made to pay steep fines and possible restitution, you could also risk serious damage to your reputation and loss of your job and future opportunities. It is absolutely essential that you contact an experienced criminal defense attorney as soon as possible.
At Canan Law, we fight to protect the rights of the accused throughout Northeast Florida. With over 60 years of collective experience and more than 250 jury trials under our belt, we understand the many unique intricacies involved in navigating the criminal justice system. Our St. Augustine violent crimes defense attorneys can explain your legal rights and develop strategies aimed at protecting your future.
If you or someone you love has been arrested for a violent crime, contact us now at (904) 849-2266. We offer free initial consultations and payment plans.
What Are the Penalties for Violent Crimes in Florida?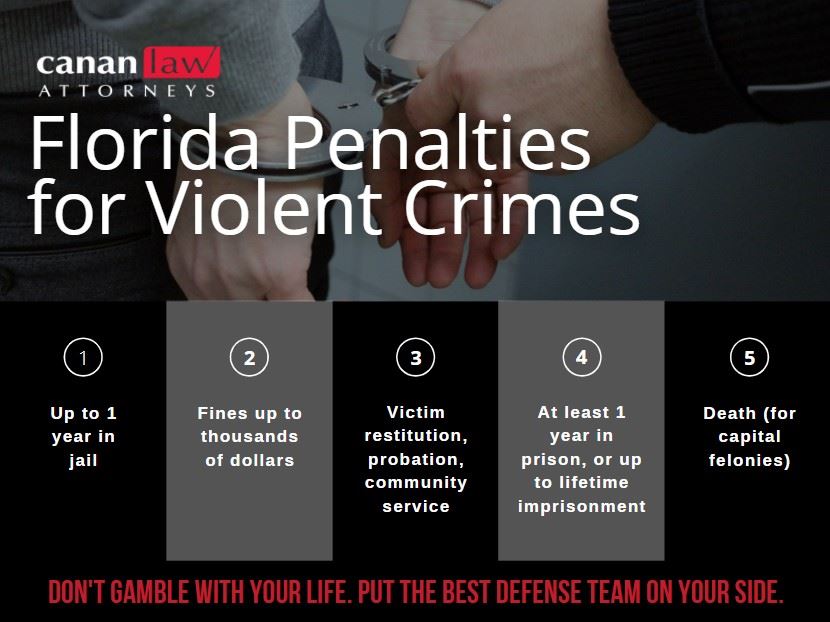 If convicted of a violent crime in Florida, you face certain criminal penalties. These penalties range depending on the type of offense and the existence of aggravating factors (if any). If you are charged with a misdemeanor, such as simple assault, you face up to one year (but no more) in jail and fines, along with possible restitution to the victim and probation. If, however, you are charged with a felony, you face no less than one year in state prison, along with thousands of dollars in fines and restitution payments.
Depending on the specifics of your situation, you could face any of the following penalties:
Up to 1 year in jail
Death (for capital felonies)
Thousands of dollars in fines
Probation
Restitution to victims
Community service
At least 1 year in prison, up to life imprisonment
Additionally, a violent crime conviction carries serious, long-lasting consequences outside of the criminal justice system. If convicted of a felony, you will lose your right to vote, as well as your right to own or possess firearms. Any criminal conviction, but particularly one for a violent crime, can also affect your employment, housing, and future opportunities, not to mention your reputation and standing in the community.
Convictions & Criminal Records
Regardless of whether you are convicted for a misdemeanor or felony, a violent crime conviction will also result in a permanent criminal record. This record is open and available to the public, including prospective employers, landlords, family members, neighbors, universities, lenders, and others. In Florida, you cannot have your criminal record sealed or expunged if you were convicted of a crime.
Is Resisting Arrest Considered a Violent Crime?
Florida law (Section 843.01) designates resisting arrest with violence as a third degree felony, which can result in up to 5 years in prison and a $5,000 fine. "Resisting with violence" includes:
Knowingly and willfully resisting, obstructing or opposing the arrest by offering to or actually doing violence towards the arresting officer
This assumes that the arresting officer was engaged in a legal execution of the law, that they had the authority to make the arrest, and that the individual being arrested was aware that they were an officer at the time of the arrest. Just because you have been charged with resisting arrest does not necessarily mean that the charges are legitimate. Sometimes officers take advantage of their authority and charge individuals with resisting with violence when they were only backtalking or arguing with the officer.
Experienced Defense Against Harsh Sentencing Guidelines
The penalties associated with violent crimes can be severe and often include imprisonment, fines, probation, mandatory community service, a permanent criminal record, and more. If you are facing charges for a violent crime in St. Augustine, St. Johns County, or anywhere in Northeast Florida, it is critical that you have an attorney who knows the ins and outs of state and federal court proceedings.
At Canan Law, one of our criminal defense lawyers is Board-Certified in Criminal Trial Law by The Florida Bar, making him an expert in this area of law. Additionally, he and several other attorneys have former prosecutorial experience. We know how the other side works, and we know how to leverage our unique insights into the prosecution's process to aggressively advocate for you. We are ready to work tirelessly to defend you and fight to protect your rights and your future.
If you have questions about your case or wish to set up a meeting, contact us today at (904) 849-2266. We offer free, confidential consultations, as well as payment plans.
The Firm You Can Trust In Any of Life's Difficult Situations
Our legal team specializes in a wide variety of practices and we are ready to fight & advocate on your behalf.
Examples of Violent Crimes in Florida
There are many types of violent crimes in Florida. Typically, though not always, these offenses are charged as felonies. This means they carry harsh penalties if you are convicted.
Some examples of violent crimes include:
Homicide: Homicide occurs when the life of another human being is unlawfully taken. Such charges are classified as either murder or manslaughter, depending on whether the killing was intentional or not.
Assault: The threat of acting violently and hurting another person is known as assault. Someone can be charged with assault regardless of whether he or she acts on those threats. Simple assault is considered a misdemeanor, while aggravated assault or assault with a deadly weapon is considered a felony.
Battery: Battery is the harmful, aggressive, and unwanted touching of another individual. Just like assault, someone does not have to physically injure the other person to be charged with battery.
Domestic violence: Domestic violence includes any violent acts committed against a boyfriend/girlfriend, a spouse, or a family member who is living in the same household.
Child abuse: Child abuse includes acts of aggression or neglect that result in the injury or harm of a child.
Kidnapping: Kidnapping is the forceful and unlawful abduction or confinement of another person.
Robbery: The use of violence or force to take another person's belongings is classified as robbery.
If you are facing charges for one of these or another violent crime in St. Augustine or anywhere in Northeast Florida, get in touch with Canan Law right away to learn how our attorneys can protect your rights.